Leveraging Technology to Augment Staffing
This conference workshop presentation discusses the challenge that many agencies have with staffing or budgeting. The Chula Vista (CA) Police Department found itself facing both, resulting in a staffing level of less than one officer per thousand. The agency needed a force multiplier and began by issuing smartphones. CVPD then added layers of complementary technology, ultimately resulting in improved response times and increased situational awareness for officers. Command officers from CVPD will provide insight to their nationally recognized Drone-as-a-First Responder program, Live 911, and pilot efforts to use the smartphone as an in-car computer as well as Greenwave technology which improves response by managing traffic signals without installing equipment in patrol cars.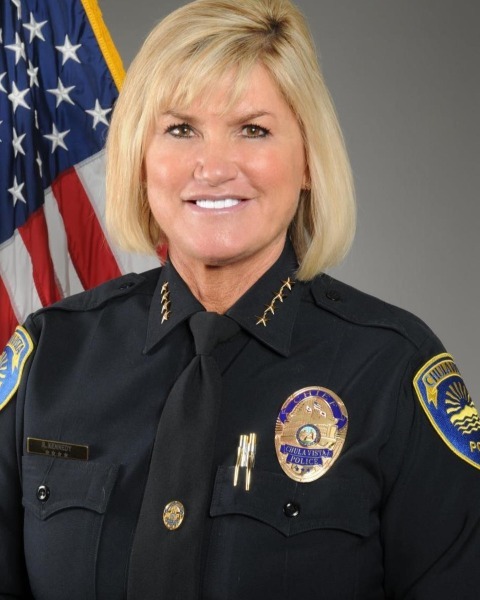 Roxana Kennedy
Chief
Chula Vista, California, Police Department
In 2016, Roxana Kennedy was appointed as the City of Chula Vista?s 24th Chief of Police. Chief Kennedy began her law enforcement career after graduating from the Southwestern College Police Academy. She rose to become the first female Chief of Police for the City of Chula Vista. Under Chief Kennedy?s leadership, CVPD has adopted an innovation initiative focused on using technology to enhance community safety, increase situational awareness and officer safety, and reduce response times. CVPD is proud to be the first and only police department to work under the Federal Aviation Administration?s UAS Integrated Pilot Program ?Drone as a First Responder (DFR)? concept which provides real-time data to officers and supervisors allowing officers to make better tactical decisions in the field providing safer outcomes for all parties involved. Chief Kennedy?s goal is sharing our story with our law enforcement partners nationally and internationally to help standardize and expand to any agency interested in the benefits. CVPD is also leading another pilot project called Live911. Live911 allows the officers in the field to hear incoming 911 calls and respond before critical calls are processed and dispatched. Programs of importance include: ? Body Worn Cameras - Issued to patrol ? Cell phone deployment to all officers ? DeX-pilot program replacing MDC's with officers' hand-held smart phones docked in the vehicle ? Opticom - preemptive traffic light CAD integration for responding officers ? Open Data Initiative - To provide transparency, build trust, and enhance community engagement, CVPD is proud to be one of the first law enforcement agencies in the United States to participate in the White House Open Data Initiative. ? State of the Art Communication Center Chief Kennedy has a bachelor?s degree in Business Management from California Coast University. She is a graduate of the FBI National Academy, Class #243.
$i++ ?>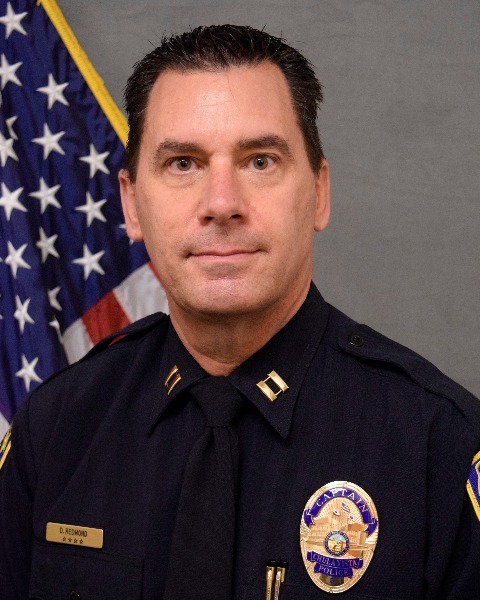 Don Redmond
Captain
Chula Vista, California, Police Department
Captain Don Redmond began his law enforcement career in 1996 as a CVPD sponsored recruit in the San Diego Regional Academy. After graduation, Captain Redmond worked various assignments including patrol officer, School Resource Officer, Motor Officer, field agent, Special Events Coordinator, and Hit and Run Investigator. He was promoted to Sergeant in 2008 and served as patrol supervisor, SWAT Team Leader, and Professional Standards Sergeant. In 2013, Captain Redmond was promoted to Lieutenant and served as Patrol Watch Commander, Community Policing Commander, Professional Standards Lieutenant, Jail Commander, Dispatch Manager, Adjutant/Special Projects Lieutenant, and UAS Manager until his promotion to captain. Currently, Capt. Redmond oversees Support Operations consisting of the 9-1-1 Police Communications Center, Technology, the City Jail, the Professional Standards Unit, and UAS/DFR Operations. Captain Redmond holds a Master of Arts Degree in Administrative Leadership from the University of Oklahoma, a Master Certificate in Criminal Justice from the University of Virginia, and a Bachelor of Arts Degree in Education from San Diego State University. He is a graduate of California P.O.S.T. Command College (Class 64) and the prestigious FBI National Academy (Class 263). He is a published author in Police1 Magazine, FBINAA Magazine and was a contributing writer for the California P.O.S.T. De-Escalation Strategies and Techniques publication. He is an adjunct community college instructor and California P.O.S.T. Master Instructor.
$i++ ?>
Dale Stockton
Managing Partner
Public Safety Insight
Dale Stockton is the managing partner of Public Safety Insight, a consulting firm that advises public safety agencies and vendors. He is a 32-year veteran of law enforcement, having worked in all areas of police operations and investigations and retiring as a police captain from Carlsbad, California. Dale is a graduate of the 201st FBI National Academy and holds a master?s degree in Criminology from the University of California, Irvine. He has presented best practice classes in the use of technology on behalf of both the International Association of Chiefs of Police (IACP) and the National Institute of Justice. Stockton has served on advisory committees for both organizations, including the IACP Criminal Justice Information Systems (CJIS) Committee for more than five years. Dale is the founder of the award-winning national training program, Below 100 and is a past executive director for the organization. He is the current chairman of the Spirit of Blue Foundation's board of directors.
$i++ ?>
Key:

Complete

Next

Failed

Available

Locked
Leveraging Technology to Augment Staffing Conference Workshop Presentation
Open to view video.
IACP Credit Hours and Certificate of Attendance
Live Viewing: 1.00 IACP Credit Hours credit and certificate available
Live Viewing: 1.00 IACP Credit Hours credit and certificate available