Community Engagement as Part of Your Human Trafficking Response
Register

Non-member - Free!
Member - Free!
Human trafficking affects the most vulnerable in our communities. Meaningful engagement with marginalized and at-risk communities and those that serve those communities can build trust and sustainable relationships that in turn can improve responses to sex and labor trafficking. When effective and sustained community engagement is prioritized, more victims can be identified and provided with individualized services and more traffickers can be held accountable.

This moderated panel focuses on how to incorporate community engagement into a multidisciplinary human trafficking response. Practical and long-term strategies, as well as how to overcome common challenges and build on success, are discussed. Panelists include law enforcement command staff dedicated to community engagement, a human trafficking survivor with professional experience working with trafficking victims and marginalized communities, and as well as a law enforcement officer and prosecutor who have proactively engaged with their communities.

This webinar will help participants to:
Integrate community engagement as a key strategy to identify victims of sex and labor trafficking;
Create proactive and strategic plans to engage with at-risk and marginalized communities; and
Collaborate to demonstrate a holistic approach to human trafficking, focused on building relationships and providing victims with meaningful and accessible services.

Presented by:
J.R. Ujifusa, Senior Deputy District Attorney, Multnomah County, Oregon, and Special Assistant United States Attorney, District of Oregon
Joy Friedman, Consultant and Survivor Leader, the Missing Peace
Officer Natasha Haunsperger, Portland Police Department, Office of Community Engagement, Chief's Office

Moderated by:
Jane Anderson, Attorney Advisor, AEquitas
Sabrina Fernandez, Program Manager, IACP



This webinar was produced by the International Association of Chiefs of Police under Cooperative Agreement #2020-VT-BX-K002, awarded by the Office for Victims of Crime, Office of Justice Programs, U.S. Department of Justice. The opinions, findings, and conclusions or recommendations expressed in this webinar are those of the contributors and do not necessarily represent the official position or policies of the U.S. Department of Justice.
Jane Anderson, JD
Attorney Advisor, AEquitas
Jane Anderson brings her expertise in prosecuting domestic violence, sexual violence, and human trafficking to her role as an Attorney Advisor with AEquitas. Prior to joining AEquitas, Jane served as a prosecutor in Miami, Florida where she tried many of the state's first human trafficking cases. In her role as a founding member of the Human Trafficking Unit, Jane developed policies to better identify and provide necessary services to trafficking victims, while ensuring offender accountability through the use of digital evidence and creative charging decisions. Jane also served as a supervisor in the Domestic Violence Unit, where she trained new attorneys and oversaw the prosecution of domestic violence, stalking, and violations of protection orders. Throughout her career, Jane prosecuted felony-level crimes of all types, including homicide, kidnapping, and sexual assault. Currently, Jane's responsibilities include serving as a member of the IACP technical assistance team and as ICF's "field coach" for human trafficking prosecutors around the U.S. Jane graduated cum laude from American University, Washington College of Law and is based in the San Francisco Bay Area
$i++ ?>
Sabrina Fernandez
Program Manager, IACP
Sabrina Fernandez is the Program Manager for domestic human trafficking initiatives at the International Association of Chiefs of Police (IACP). Her current portfolio includes the Enhancing Law Enforcement Anti-Human Trafficking Task Force Operations Training and Technical Assistance Program and the National Anti-Human Trafficking Training and Technical Assistance Program (both funded by the Bureau of Justice Assistance, U.S. Department of Justice). Prior to the last four years supporting the IACP's human trafficking projects, Ms. Fernandez spent six years at the IACP on juvenile justice and child protection initiatives where she addressed policy and operational challenges facing law enforcement and developing tools and resources to assist law enforcement in investigating and prosecuting criminal activity, preventing and responding to victimization, and increasing community safety. Her project portfolio at the IACP has included training and technical assistance in juvenile interview and interrogation, school safety, law enforcement responses to adolescent girls, cyberbullying, adolescent brain development, school/justice collaborations, children of arrested parents, children exposed to violence, and child sex trafficking, as well as providing staff support to IACP's Diversity Coordinating Panel, Railroad Police Section, and Patrol and Tactical Operations Committee. She previously worked at the University of Tennessee Law Enforcement Innovation Center, coordinating a cybercrime investigation academy and a national training and technical assistance program providing resources to law enforcement on topics such as gang investigation, crime analysis, crime-scene investigation, and crime prevention. She has 13 years of experience supporting law enforcement and over 20 years of experience working in public service through state and municipal government and non-profit community agencies.
$i++ ?>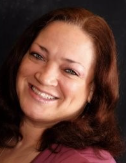 Joy Friedman
Survivor, Consultant
The Missing Peace
Joy Friedman is a survivor of sexual exploitation and an invaluable resource for women and girls within the anti-sex trafficking movement. Her exploitation began as a teenager and ended after being in the Life for 22 years. Joy successfully completed a program for sexually exploited women, and after two years of sobriety was hired at Breaking Free, a Minnesota organization that empowers survivors through housing and service provision, programming, and advocacy. At Breaking Free, Joy co-coordinated and conducted training at one of the first Offender Prostitution Programs in the country. Joy has also conducted street outreach to vulnerable and sexually exploited women and has trained other professionals in conducting outreach and providing trauma-informed responses. She has trained and provided expert consultations to a wide variety of law enforcement agencies investigating sex trafficking cases and other stakeholders on the dynamics of sexual exploitation. Committed to empowering survivors in any way she can, Joy started her own consulting business, through which she continues training and advising anti-sex trafficking stakeholders throughout the country.
$i++ ?>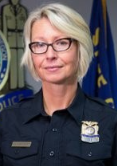 Natasha Haunsperger
Community Engagement Lead and Police Officer
Portland Police Bureau
Natasha Haunsperger has been a Portland Police Officer for sixteen years and in her current position as a Community Engagement Lead, she has been working on addressing complex criminal justice-related issues with immigrant and refugee communities in the Portland Metro area. Officer Haunsperger is currently working on developing holistic and innovative platforms for onboarding immigrants, refugees, communities of color, and other vulnerable and historically marginalized communities in the process of justice reforms. Officer Haunsperger also co-produced a documentary film on foreign-born labor trafficking, "Reclaiming Their Lives," and is actively working on raising public awareness about trafficking trends in the Pacific Northwest. Officer Haunsperger is committed to developing a training curriculum for first responders and community-based stakeholders, focusing on early detection and identification of labor trafficking activities and victims' identification and rescue. In addition, she engages as an advocate with groups focused on issues of gender, socio-economic justice, and civil and human rights for justice-impacted women, with a particular focus on uplifting the voices of women in the areas of domestic and international security, conflict resolution, and peace-building processes.
$i++ ?>
JR Ujifusa
Senior Deputy District Attorney
Multnomah County; SAUSA, District of Oregon
JR Ujifusa has been working on human trafficking crimes and issues for the last 12 years and is also a Special Assistant United States Attorney for the district of Oregon focusing on federal human trafficking crimes. He is the Senior deputy and supervisor of the Multnomah County District Attorney's Drug and Property unit and Human Trafficking Team which oversees the Prostitution Coordination Team, the Sex Buyers Accountability and Diversion Program, First Offender Program, Commercial Sexual Exploitation of Children Law Enforcement group, National Sex Trafficking Law Enforcement List Serve, and is the primary prosecutor for all felony prostitution and human trafficking cases within Multnomah County. JR has trained, presented and has been a guest speaker at numerous national and regional human trafficking conferences and trainings. He is a member of the Multnomah County and State of Oregon Human Trafficking Task Forces as well as the U. S. Attorney's Oregon Foreign Born Task Force. JR serves as the chair of the National Advisory Committee on the Sex Trafficking of Children and Youth in the United States. He co-chairs the Association of Prosecuting Attorney's Human Trafficking Advisory Committee and the Oregon DOJ Trafficking Intervention Advisory Committee. He has been a Deputy District Attorney since 2005 and has also prosecuted drug crimes, felony property crimes, violent crimes, sexual assaults, domestic violence related crimes, gang related crimes and homicides.
$i++ ?>
Key:

Complete

Next

Failed

Available

Locked
Community Engagement as Part of Your Human Trafficking Response Recording
Recorded 05/25/2023 | 85 minutes | Closed captions available
Recorded 05/25/2023 | 85 minutes | Closed captions available